Since before becoming our so-called President, many people, including professionals, have spoken out about Trump's mental health. His daily Twitter rants, his belief in an alternate reality he perpetuates with lies and deceptions, and his dramatic outburst all point toward some kind of unhinged mental disorder. And now, one of his former top aides is joining the ranks of those questioning his mental stability.
Omarosa Manigault-Newman, a former aide to President Trump, was revealed to have secretly recorded conversations with the president during her time in the White House, multiple sources informed the Daily Beast.
Manigault-Newman, who prior to her role in the administration popped up as a contestant on Trump's reality show "The Apprentice," is now releasing a tell-all book regarding her experience in the White House. The book, entitled "Unhinged," is scheduled to be released on August 14th.
Michael Cohen, Trump's longtime attorney, is also known to have recorded Trump in secret. One such recording was recently released where Trump could be heard discussing a possible payment to a former Playboy model with whom he allegedly had an affair.
Simon & Schuster, the publisher of the upcoming "Unhinged," replied to the Daily Beast in a statement. "Without commenting on the specific contents of UNHINGED," the spokesperson said, "we are confident that Omarosa Manigault Newman can substantiate her highly-anticipated account of life inside the Trump White House."
The shocking reveal of the tapes marks a drastic shift from what was once a friendly relationship with Trump. In 2015, Trump posted about one of Manigault-Newman's television appearances, saying, "[email protected] You were fantastic on television this weekend. Thank you so much – you are a loyal friend!"
Newly leaked excerpts from the book suggest this closeness is no longer shared. In the book, Manigault-Newman ponders on an interview the president did with NBC's Lester Holt, arguing that "His mental decline could not be denied."
During an appearance on "Celebrity Big Brother" following her sudden departure from the White House, she can be heard expressing her apparent concern for the direction of the Trump administration. "No, it's not going to be okay, it's not … It's so bad," she said.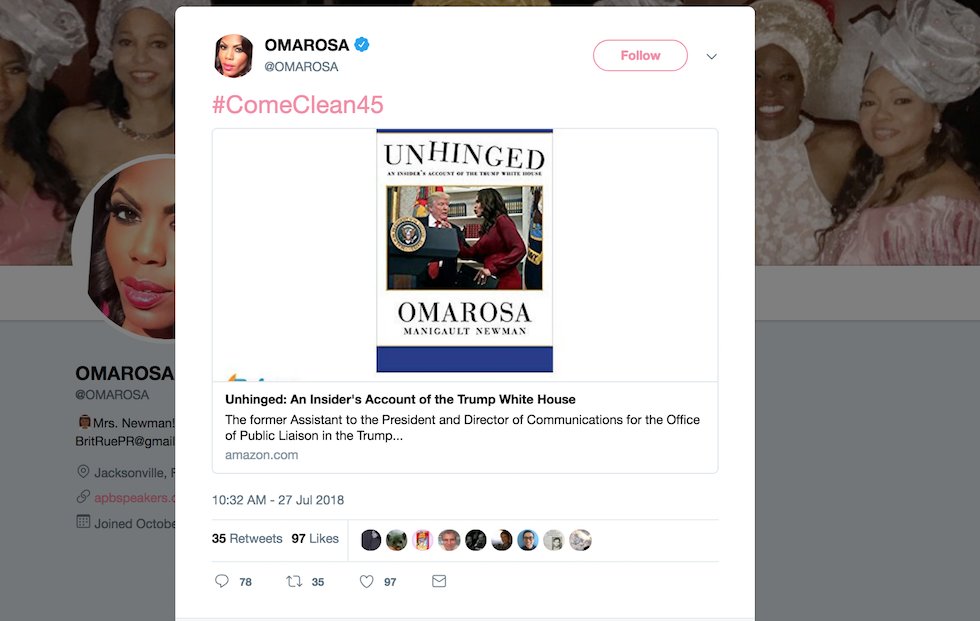 Here's how Americans reacted:
Hopefully it will be damaging to him

— Abu-Bilal M.S Sackor (@SokoNelson) August 8, 2018
Lordy, there are tapes! ha ha ha

— JuneBug (@JMarieT03) August 8, 2018
No one should be surprised that spotlight seeking Omarosa has secret tapes

— Andrea M (@AndreaMahalak) August 8, 2018
COMMENT BELOW
LET US KNOW WHAT YOU THINK
Sponsored Content