Former national security adviser Michael Flynn found himself swarmed by protesters on Tuesday as he made his way out of a federal courthouse in D.C., marking his first public sighting since pleading guilty last year to lying to the FBI.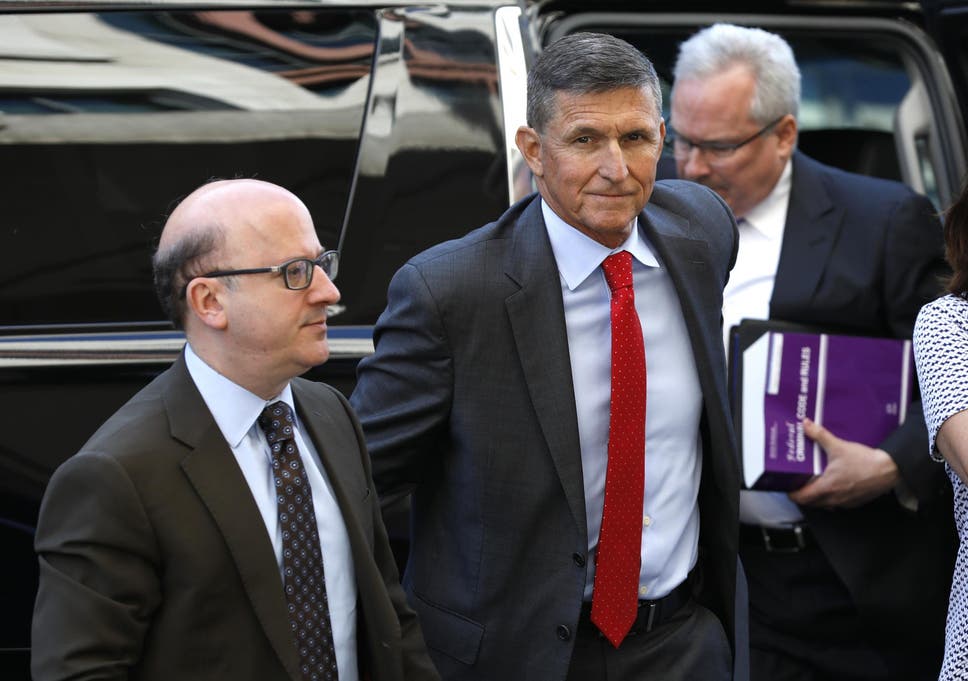 Several protesters shouted out, "lock him up," as Flynn fled the courthouse, where he attended a status hearing on his case in special counsel Robert Mueller's investigation into Russian meddling in the 2016 presidential election.
Flynn had formerly led a chant of "lock her up" in reference to former Secretary of State Hillary Clinton at the Republican National Convention back in 2016, making the situation truly ironic.
The former Trump administration official agreed to flip and work with Mueller's investigation as part of his plea deal, his sentencing in the case has been delayed.
Flynn didn't say anything to reporters on his way out of the courthouse, he quickly got into a black SUV as a few protesters shouted "lock him up" pic.twitter.com/u088iEj0RW

— Zoe Tillman (@ZoeTillman) July 10, 2018
U.S. District Judge Emmet Sullivan on Tuesday once held off Flynn's sentencing, according to the Los Angeles Times.
Sullivan had put together the hearing  in order to figure out why the probation office should prepare a pre-sentence report while holding off on setting a sentencing date which is a common practice. Mueller's office and Flynn's attorneys had requested the report.
Flynn's legal team agreed Tuesday to hold off on preparing the report, which is usually utilized to determine the length of a sentence.
"General Flynn is eager to proceed with sentencing when that is possible," Flynn's attorney, Robert Kelner, said, according to the Times. He continued on to say that Flynn wants to "bring an end to this chapter of his life."
Flynn is the first person with ties to Trump to flip on him, although many are speculating that Trump's longtime fixer Micheal Cohen could soon follow.
Michael Flynn was Today Greeted With Chants Of "Lock Him Up"pic.twitter.com/0cdjr9PuIb

— PoliticsVideoChannel (@politvidchannel) July 10, 2018
COMMENT BELOW
LET US KNOW WHAT YOU THINK
Sponsored Content